About Us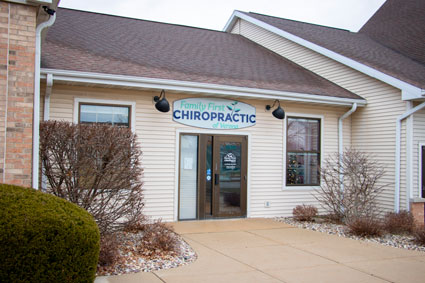 Dr. Jill Mork opened Family First Chiropractic of Verona in 2018 with the idea of serving families who were seeking a natural solution to better living. After some time working in Middleton, she chose Verona because of the small-town feel and sense of community. There's a good reason we're nicknamed Hometown USA!
Support for Your Family
When Dr. Jill studied at Northwestern Health Sciences University, she embarked on achieving a certification in chiropractic pediatrics. She's passionate about seeing children from the beginning of their life, so they don't have to suffer like so many adults do today.
If we make corrections early on, they won't lead to more serious issues further down the road. Sadly, today's kids are sicker than ever before. Nobody seems to have a solution for it. Just like our name says, we want to put families first.
It's easier to promote healthy kids than fix broken adults.
Dr. Jill
Our Philosophy
Dr. Jill believes in a healthy lifestyle that starts with chiropractic and includes exercise and proper nutrition. Her focus involves addressing the whole person so that we can help you overcome your challenges. Having been through her own health struggles due to a sports injury, Dr. Jill understands what it's like to be limited by less-than-optimal function.
There are various techniques Dr. Jill uses in her care, including the Webster Technique for pregnant women. When you become a patient with us, we'll tailor what we do to your particular needs, always taking a gentle and effective approach.
MEET DR. JILL »
Being a Part of Your Healing
Dr. Jill feels continually inspired by seeing the difference chiropractic can make in her patients' lives. For example, she's seen many babies with colic. Within a month of care, they seem like new babies. Constipation, reflux and more can respond incredibly well to what we do. From the time your baby is pulled from the birth canal or C-section incision, they can experience a trauma that affects their health.
When we check your child, we're ensuring that their nervous system can communicate with their body as it should so that they have the best possible function. Their bodies, in turn, are able to overcome a myriad of different concerns. You can even bring your baby by when you're on your way home from the hospital for a quick check.
Check Out Our Latest Events
At no cost, you can attend our webinars, workshops and upcoming events. Sign up now via email and get a link to our latest webinars, which are on Facebook. Or contact our chiropractic care center today if you'd like to attend our in-office events!

About Family First Chiropractic of Verona | (608) 497-1801