Family Chiropractic Care
Health is your family's most valuable asset. It's true that health is indeed wealth. A wise yet unknown person once said, "If you don't take care of your body, where are you going to live?"
Why We Love Seeing Families
All ages of people can benefit from chiropractic. As an example, a baby's body has the same structures, including the central nervous system, which a senior citizen does. The differences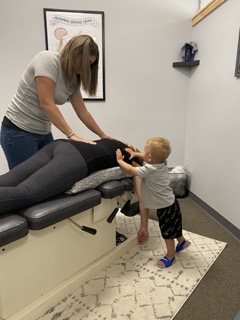 lie in the stage of development they're in and their experience. Everyone has a central nervous system that controls every aspect of the way we live. It does so by communicating with the brain, and the messages are run by the central nervous system.
If there is an interference with this communication, it will result in an imbalance in the body. In turn, you can experience a wide variety of symptoms, pain and disease. If left untreated, the interference prevents you from reaching your full potential for health.
We believe in taking a proactive approach to health. As Americans, we're used to waiting until sickness, pain or issue arises before we seek help for it. Then, we're caught in a loop of testing, getting a prescription and having appointments focused only on treating symptoms. Chiropractic, however, focuses on eliminating the source of the imbalance, then keeping your central nervous system on track.
Our philosophy is that it's far more effective and healthier to resolve the potential for an imbalance and prevent problems from occurring. If a challenge comes up, chiropractic will get to the root of the problem. We want to assist your family in achieving optimal health, then help you maintain it for your lifetime.
Dr. Jill has years of experience in improving the quality of life for numerous families in our area. Our welcoming, family-friendly atmosphere is just where you'll want to be. Our approach involves looking at your body as a whole. We know that a healthy lifestyle begins with chiropractic and includes nutrition and exercise.
The many adjusting techniques Dr. Jill uses include Activator®, Diversified and the Webster Technique, which she is certified in. This method is specifically for expecting moms and helps to balance the pelvis. No matter what your age or health concern, she will tailor her adjusting style to you.
Dr. Jill is passionate about caring for families. This love grew even stronger when she was pregnant and became a mom to her son Bennett. She received regular care during her pregnancy and had a natural water birth. Bennett was adjusted when he was two hours old and is checked regularly.
Get More Information
In everything we do, Family First Chiropractic of Verona strives to be the center that you and your loved ones will want to keep coming back to. If you are interested in learning more about family care Verona, please contact our team today to schedule a consultation.
CONTACT US »

Family Chiropractor Verona, Oregon, West Madison WI | (608) 497-1801