Thursday, August 6th at 8 pm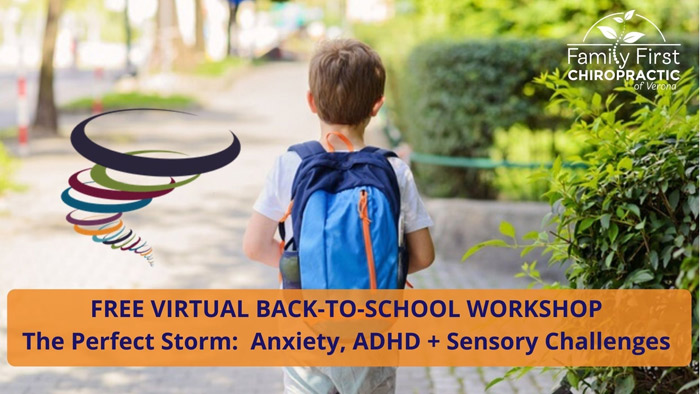 Parents, we know that every year the Back-to-School transition brings a major change in routine and quite a bit of added stress as we get everything together for not just our kids, but us too.
Well this year, that stress is now 10-fold as we are unsure of exactly what school is going to look like. New changes, new routines, new mandates, and just so many more potential obstacles for our kids to overcome in order to be in a healthy, happy, and positive social and learning environment!
Then, if your child already struggles with things like sensory, emotional, learning, and behavioral challenges, that stress and tension are actually 100-fold and through the roof for your family right now.
We want to help.
We've put together our Back to School Perfect Storm Virtual Workshop to help answer your questions, calm your fears, and help you draw up the best action plan possible for your family this fall!
A Different Approach
In this virtual workshop, we will not be taking you through all the things that are "broken" with your child, and giving you a laundry list of things you must do to "fix" them. We'll take you through the science that shows clearly how your ADHD or Sensory child is not broken and destined to struggle, but instead, we'll show you what's holding them back, stressing them out, and getting in the way of them being at their BEST!
We take a vastly different approach with this workshop and the action steps we recommend. This is anything but your typical medical approach, and it's also not the common 'natural' one either. Both of those predominant approaches rely on finding all that's wrong and then recommending medications, therapies, supplements, vitamins, or specific diets to treat them.
If you've tried it all and your child still struggles, the Perfect Storm Virtual Workshop is for you!
Get your HOPE back, your questions ANSWERED, and ACTION STEPS that are easy and effective!
Throughout our time together we will tackle what really starts the "Perfect Storm" and go back to WHEN it really starts. (Hint: it's way earlier than most parents or providers ever realize, and the ONE THING creating challenges for over 80% of our kids is NOT what you think it is!)
We'll dive deep into the science and neurology behind your child's struggles, from emotional regulation and behavioral challenges, to focus and concentration issues, and more. We'll also cover why so many of these neurologically-challenged kids also struggle with gut and immune issues, and how to help those as well!
Lastly, we'll give you action steps that you can use to start making a difference for your child right away. Together we help you learn how to MINIMIZE the tough days and MAXIMIZE the good days for your child at home and school.
We can't wait to share this information with you!
**This event is FREE, but be sure to REGISTER to get the viewing link emailed to you 1 hour prior to the start of the virtual workshop.
Can't attend live? You can still register and you will receive a REPLAY LINK!
We hope to see you there!